But these crunchy, nutty cookies are absolutely wonderful. A hit of raspberry or strawberry jam in the pushed-down center gives them a holiday look and touch of sweetness. (Or try chopped almonds with orange marmalade or peach jam.) These are some of the easiest cookies in the world to make -- but they don't look it. An elegant addition to your next cookie tray!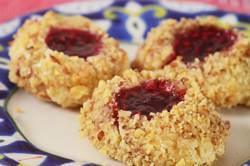 Thumbprint Cookies:
1/2 cup (113 grams) unsalted butter, room temperature
1/4 cup (50 grams) granulated white sugar
1 cup (130 grams) all purpose flour
1/4 - 1/2 cup (60 - 120 ml) raspberry jam
Directions: Cream butter, sugar, egg and vanilla together, then gradually mix in flour and salt. (Your dough will be quite firm.) Shape into balls, roll in chopped nuts and use your thumb to press down the center of the ball down deeply. Bake at 350 degrees on a greased cookie sheet approx. 12-15 min, until lightly browned. Let cookies cool, then fill with jam.
Read more:
http://www.joyofbaking.com/ThumbprintCookies.html#ixzz1g43oWmqD
For a helpful video and more cookie tips,
go here.
(
Editor's Note: I'm sorry this blog has been quiet for the past week -- an uncle died suddenly, and I had to make a quick trip back for his funeral service, and help out. The Mama does not believe in the Internet, and I wasn't able to check in too often that way. Back now.)